Crispy Corn Triangle is a type of samosa filled with corn bhaji/subzi. It's a dish prepared as a starter or snack item. I had prepared this dish on the sets of Aamhi Saare Khavayye, a cookery show on ZEE TV Marathi. The main ingredients of this dish are Corn, Maida and Grated coconut. You can also prepare this dish for birthday parties or during family gatherings.
Preparation Time – 35 mins
Cook Time – 15 mins
Total Time – 50 mins
Ingredients:
4 Sweet Corn cob (Maize) – 2 bowl corn kernels
500gm refined flour (Maida )
1 bowl refined flour (maida) for dusting
1 bowl grated coconut
1/2-inch ginger
5/6 green chilly
1 or ½ teasoon lemon juice (optional)
1 bowl coriander leaves
1 teaspoon Cumin Seeds (optional)
1 teaspoon Mustard seeds
2 pinch asafoetida
6-7 Curry leaves
½ bowl Bread crumbs
Maida paste (2-3 teaspoon maida + 1 ½ teaspoon water- mix well)
Water as required
Salt to taste
Serves:  8 persons
Directions / Procedure:
A. Process to prepare triangle bhaji filling
First cook corn cob in a pressure cooker and cool it down.
Then remove the corns kernels from the cob and keep aside.
Make a gravy of grated coconut, chilly, ginger, lemon juice and coriander leaves. Take all above ingredients in blender jar and add half glass of water in it, grind it well and keep the gravy aside.
Heat the oil in kadai or pan on low flame gas, add mustard seed and cumin when these seeds begin to splutter then add curry leaves and sauté for few seconds.
Now pour the gravy in kadai and mix it well, cook the gravy for about 2-3 minutes.
Then add corn kernels in the gravy and add salt to taste. Mix all ingredients very well.
Cook the corn bhaji on low flame gas for about 3 minutes till the gravy become dry. If required, add bread crumbs for adjusting the dryness of bhaji.
Here your Corn Coconut Bhaji is ready for making Triangle
 B. Process to prepare polis for triangle by using dough
In mixing bowl / big deep plate, take maida, add 5 teaspoon oil and salt to taste. Mix everything very well. Now slowly add water in mixture and knead the mixture properly. Knead the mixture till oil and water completely absorbed by the dough.
While kneading makes ensure that the dough should be smooth and soft. Cover the dough with lid and keep aside for about at least 20 minutes.
After 20 minutes apply some oil to your palm and again knead the dough very well. Now your soft dough is ready for making the triangles.
Take two lemon size dough and roll it separately on dusted rolling board and make small same size two polis like puri.
Apply some oil and maida to the both small polis. Keep the one poli on another poli and press both polis properly. Now roll the combined poli in big round shape.
Cut the poli from 5 sides like pentagon. Refer the photos given below.
Heat the iron tawa or griddle pan on low flame, initially spread some ghee or oil (½ teaspoon) and slightly roast the poli on the low flame.
This poli just roast it for few second from both the sides. This means
the poli not completely cooked.
In similar way, make all polis and keep it on a wet kitchen napkin.
C. Process to prepare triangle and bhaji filling
Cut the poli in middle and open two polis.You get 4 strips for making triangle.
Apply the maida paste in all corners of strips and make the cone. It looks like cone.
Now add the bhaji in that cone. Apply maida paste and press the open end of cone. Now it looks like triangle
Heat the oil in frying pan on low flame gas. Cook the one side of triangle for 2-3 minutes till it turns light reddish. Flip the triangle and cook the other side for 2-3 minutes. Fry the triangle from both sides till it turns reddish.
Serve hot Crispy Corn Triangle with spicy green coconut chutney or tomato ketchup.
Tips & suggestions:
Adjust the green chilly and ginger in coconut gravy as per your choice.
Adding lemon juice (1 tsp) while making gravy is optional.
Keep the half cook polis in wet kitchen napkin otherwise the polis will become dry and it will break will filling the bhaji.
Adding five to six garlic cloves is optional.
Adding spices like 1teaspoon cumin powder and 1 teaspoon coriander powder is optional.
Photos for reference: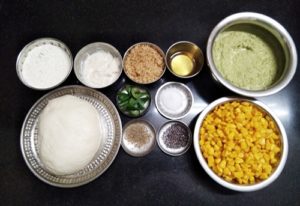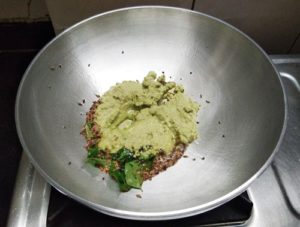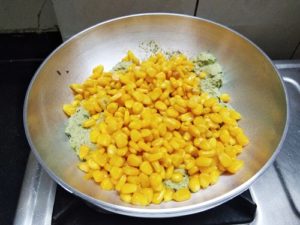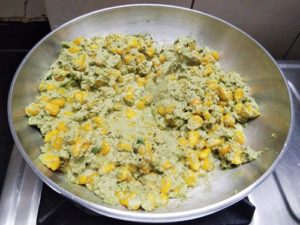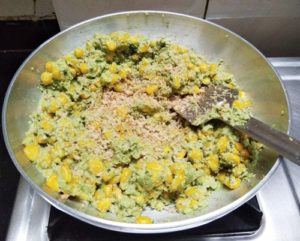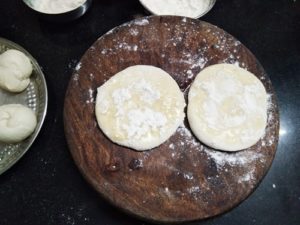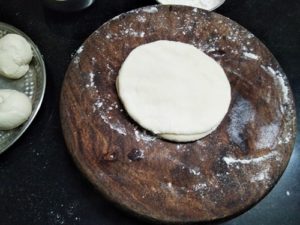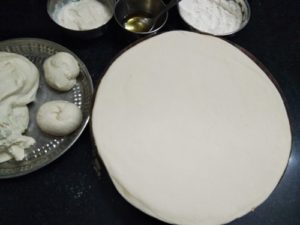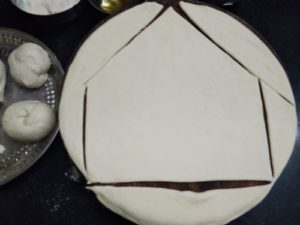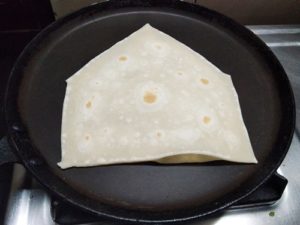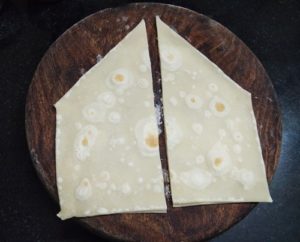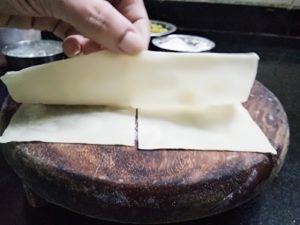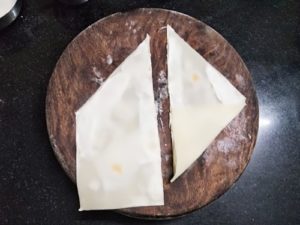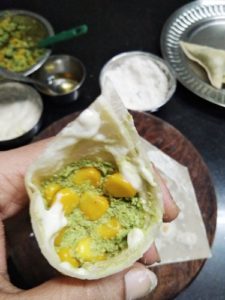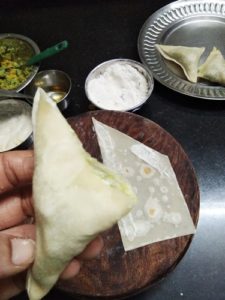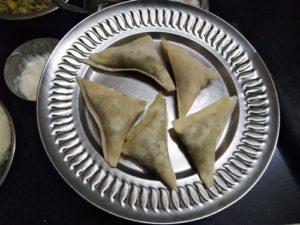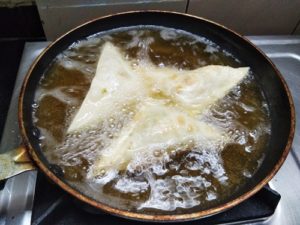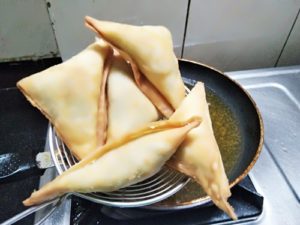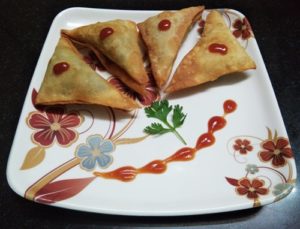 Related Post/Link:
1. A memorable day on the sets of Aamhi Saare Khavayye
2. Aamhi Saare Khavayye – Episode 3027 – 5 December, 2018 link
3. Fruit Yoghurt Custard