Fried Modak is special sweet dish of Maharashtra. This sweet dish is favourite of Lord Ganpati. During pooja we offer 21 modaks to Ganpati as a naivadya. We prepare modak every month on Sankashti Chaturthi or Angarki chathurthi for the Lord Ganpati.
Preparation Time – 1 Hour 15 Mins
Cook Time – 15 mins
Total Time – 1 hour 30 mins
Ingredients:
3 bowl grated coconut
2 bowl grated jaggery
2 bowl Wheat flour
5 green cardamom powder
2 teaspoon ghee
Oil for frying purpose
Water as required
Salt to taste
Serves:  8 persons (2/3 for each person)
Directions / Procedure:
The following procedure consists of four processes which includes preparing the stuffing for modak, preparing dough, process of making modak and process of frying modak.
A. Process to make puran (stuffing) for modaks
Heat kadai or non-stick deep pan on low flame and add 2 teaspoon ghee and grated coconut and saute for one minute then add grated jaggary. Stir the above mixture very well. Cook the above mixture on low flame.
Now jaggery start melting, here in between stirring is must because base of the mixture immediately turns brown. Add cardamom powder and mix it very well. Cook this mixture till the jaggery begins to dry and mixture become thick.
Here your modak stuffing is ready, keep this mixture aside for cooling.
B. Process to prepare dough (outer cover of modak)
In mixing bowl / big deep plate, take Wheat flour, add hot oil and salt to taste. Mix everything very well. Now slowly add water in mixture and knead the mixture properly. Knead the mixture till oil and water completely absorbed by the dough.
While kneading makes ensure that the dough should be smooth and soft. Cover the dough with lid and keep aside for at least 10 minutes.
Check the softness of dough, if dough is very hard and dry then add little amount water, again knead the dough properly.
After that pour remaining oil on dough (if required add little extra oil) and again knead the dough very well.
Now your soft dough is ready for making the Modak.
C. Process to make the modaks
Take the lemon size dough and roll it on dusted rolling board. Make small puri / roll of dough.
Fill the puran i.e coconut mixture in centre of the roll of dough.
Using hand finger, pinch the outer side of the disc of dough little bit and make pleat. Like this, roll the disc in round shape, make pleats at nearby distance like ½ inch.
Carefully rolled the filled dough disc round on hand and softly bring all the edges i.e. pleat together and then joined, make the top shape pointed and remove the extra portion of dough if any.
Make all remaining modak like this way and here your making process of modak is completed. Now next step is to fry the Modak.
D. Process to fry the modak in oil or ghee
Heat the oil or ghee in a deep-frying pan / kadai on medium flame gas.
Slowly put the modak in hot oil and keep the flame low.
When frying from down side, in between splash some oil over the top side. It cooks little bit from that side then flip the modak and fry it from other side. Fry the modak till it becomes reddish golden brown from all sides.
Remove the modak from oil and keep it on kitchen tissue paper.
Here your Fried Modaks are ready now for Naivaidya.
Tips / suggestions:
Use sugar instead of grated jaggery.
In puran, you can add dry fruits pieces like cashew, almonds and pistacho.
Photos for reference: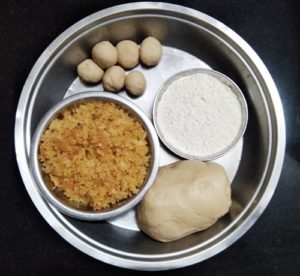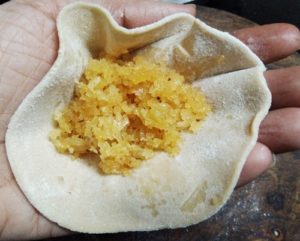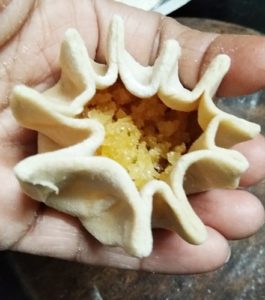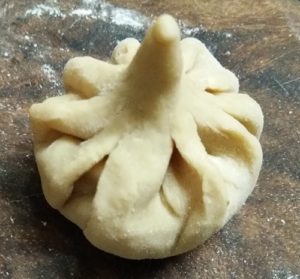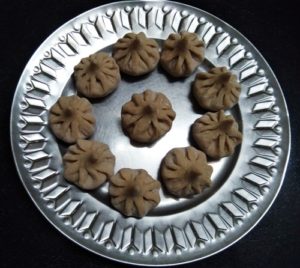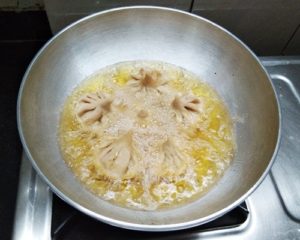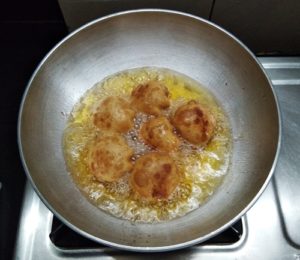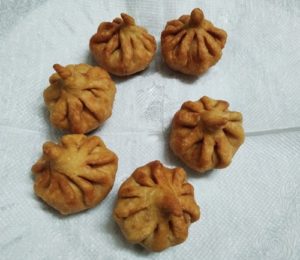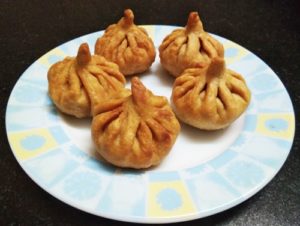 Also read: